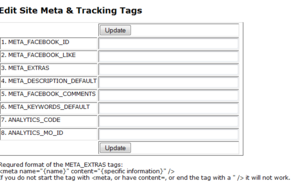 This screen lets you set global meta tags.
All per page/item tags will override these.


This is a simple way to edit the meta tags on a global basis.

Many of the original GlitterPaw users wouldn't edit their meta tags at all, so we created a way to build them automatically based on the information you enter into Content Paragraphs 1 and 3. Assuming your local competitor is floundering on their SEO, t's this automated feature that gives a GlitterPaw powered site an immediate advantage over your competitor's website.

Please don't rely on these default meta tags. You should set them on a per page and per item basis using all the other build in features.