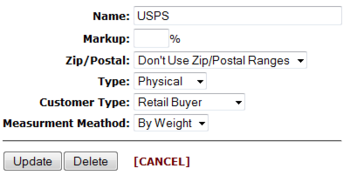 Setup of the USPS shipper.


GlitterPaw Software includes 2 methods of calculating shipping.

The first is a simple, manually entered shipping table. You can enter the names of the shipping companies, then choose if the shipping price will be calculate by weight or by value of the total sale.

The second method (not shown on thispage) is with a direct tie-in to the UPS online shipping API. Your WebDNA programmer will have to do a little work to set this up for you, but it will calculate exact shipping prices based on weight.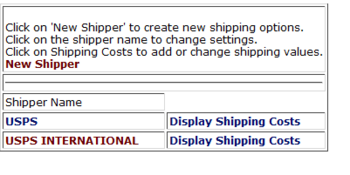 Shipper Table.


The screen capture to the left shows the simple shipper table with USPS and USPS International.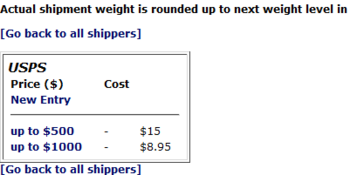 Example of individual sipping levels based on price.

Within each shipper you then have the ability to set the price or weight and the cost to ship that item.

During the checkout process the customer will only see the shipping options that match their total price/weight from each of the shipping options you've pre-set.