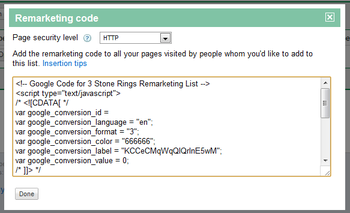 Screen capture from Google AdWords.

Everything GlitterPaw Software does is managed through various content paragraph numbers, and this feature is no different.

Just like the Google Experiment feature, you can add AdWords remarketing tags on a per page basis into paragraph 800 or 801.

GlitterPaw will ignore whatever is in these paragraphs and just display them on the web page, making this the perfect place for you to add all those snazzy Google scripts without worrying about line breaks getting mangled or code being stripped out.

Just follow the Google Remarketing directions to create your various remarketing tracking codes and conversion codes. Then go into GlitterPaw and paste it into paragraph 800 or 801 of your desired pages.