Simple screen to add the Google Mobile account number.


Well, we admit, this is the one and only place where GlitterPaw makes a call to PHP. :-(

Although smartphones are able to process the normal Google Analytics code, sometimes there's a problem and the phones don't actually process the visit.

GlitterPaw has a field for you to enter your Google Analytics Mobile tracking account number. You get that account number from your Google Analytics account. It starts with "MO" as shown in the screen shot here.

If you add this tracking code into your site GlitterPaw will process the Google supplied PHP code on the server and record the visit in analytics.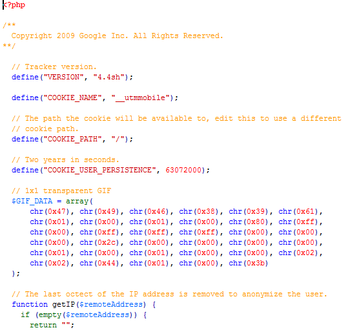 This is a snip of the Google mobile tracking PHP code.

We're waiting for a cracker WebDNA programmer to translate the PHP script into WebDNA so we can remove the need to this PHP tracking.

Takers?